The Daily Breather: Beautiful Air Quality Updates Delivered to Your Inbox Each Morning
Dec 16, 2020
Jessica Califano
Hi there! Who are you and what's your background?
Hi! I'm Jessica Califano from New York and the newsletter I work on is called The Daily Breather. I started my career in fashion PR and marketing but eventually moved into the tech industry, where I've been for the past eight years. I am currently Head of Marketing and Communications at Temboo, a no-code software startup that works with communities to help them improve their environment using sensor technology and environmental data plus grassroots involvement.
What's your newsletter about?
The Daily Breather is a free, beautifully designed email report that provides air quality information for whatever locations you want to monitor. Readers get an easy way to understand the effects that air pollution can have on their daily lives, actions they can take to help improve the air around them, and what they should do if the air quality near them is poor.
Our data comes from trusted sources, including the EPA (in the U.S.) and the EEA (in Europe). Having high quality data is vital: it allows for an accurate understanding of air quality, and it lets you compare your own sensor data to data known to be trustworthy. On Fridays we send a special version of the email that includes a graph of the week's air quality so you can see how it changed each day.
It also explains what the air quality parameters mean because many people really don't understand what AQI, PM2.5, Ozone, etc are actually measuring. I find it really helpful to have the concepts explained right inside of the tool.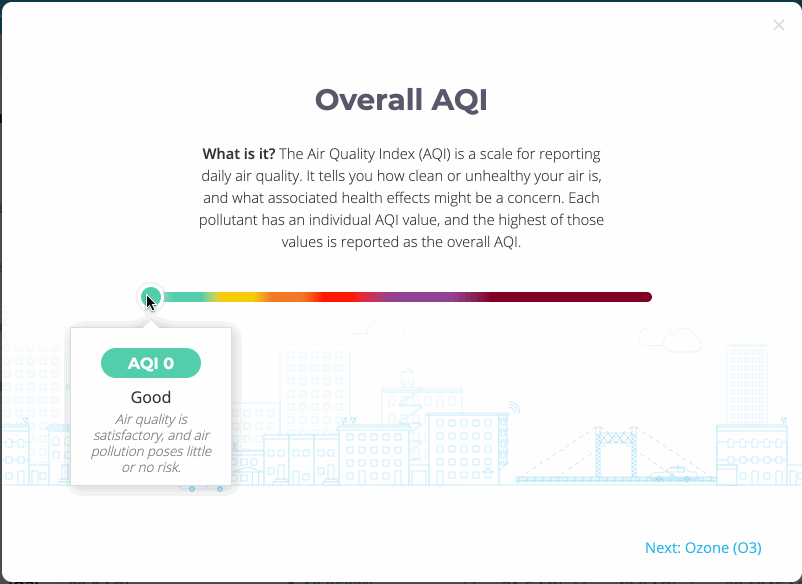 If you'd like to monitor more than one location, we'll send you updates in the same email so you can check in on as many places as you'd like. It's a great way to keep an eye on friends and family who live in other locations.
One of my favorite things about The Daily Breather is the design. Our designer, Brett, came up with a great idea of changing the color of the body of the email based on the air quality. We use the same colors that the EPA uses to indicate air quality: green for good, yellow for moderate, orange for unhealthy for sensitive groups, and red for unhealthy. Besides just the colors, the illustrations in the email also change. The flowers wilt when the AQ is poor and you can see more haze in the air.
We also include interesting facts, long reads, videos, social media posts, and more as a fun bonus. They change every day and are curated by me with the help of the team at Temboo.
When did you get started writing your newsletter? What motivated you to get started?
The idea for the newsletter was actually from our CEO, Trisala. She thought it would be a good way to try to get people engaged and interested in their local environment. A big part of the work we do with communities is to offer a way for people to get local residents more informed about the environmental issues in their area and this is one way we are working to engage people.
The issue of air quality is important and timely. We wanted to raise awareness about the effects that air pollution can have on health, skin, cognitive function, and overall quality of life. The Daily Breather is designed to make it easy for people to monitor their air quality, because if something is easy, people are more likely to do it. Hopefully, this will encourage people to check their air quality daily, because it will be something that is more and more important as climate change wreaks havoc on the environment.
This isn't Temboo's first foray into newsletters—we have a weekly newsletter that I write as well that includes our latest blog post each Friday. My team and I publish at least one article a week on the Temboo blog, mostly about environmental issues, community building, technology, and sustainability. I do all of the editing for the blog and publish my own articles there as well.
What does the process of writing your newsletter look like for you?
The newsletter is sent daily through an automated process set up by our engineering team. It sends across time zones, so when you sign up it will send you the emails at 7:30 AM wherever you are located which makes it a great way to start your day.
The content part of the newsletter is set up by me. We have a rotating schedule of the types of content we share: facts, quotes, trivia questions, long reads, podcast recommendations, interactive content, social media posts, newsletters to subscribe to, and what to stream. We're planning to add more in the future too like short interviews, events, polls, etc.
Putting together this content is a really fun process. We have a giant spreadsheet with the different categories listed above and so it's my job to make sure we don't ever run out of one type. Since the newsletter is sent daily, I usually spend some time each week adding in content to the list. Sometimes I'll come across an article or video that I think would be a good fit and add it in then. Other times, I seek out content to include, which is usually the case for the facts.
What have you learned through writing your newsletter?
I've learned a lot about air quality in general because of The Daily Breather and the research I've had to do for it. I think about air pollution constantly now—if I see a truck idling somewhere or smoke from a fire. Even just checking that the air quality is good before exercising outside is a new thing for me. But it also makes me feel a lot more connected to the environment that I live in and more motivated to make sure I'm not contributing to any pollution in the air around me.
What's your favorite part about writing your newsletter?
My favorite part is finding all the content. I am constantly consuming media, so curating the recommendations and other things we include helps me to take a step back and really consider what I am reading, listening to, or watching and ask myself if I think it would be interesting to a lot of other people. And hearing back from people who are enjoying it is always great too.
What do you wish you had known when you first started writing?
When I first started working on the newsletter I was really focused on finding content about air quality and the environment in general. Our click through rate was ok but I was surprised that it wasn't better than where it was. So I thought we should start trying out different types of content, including things like cool artists that I follow on social media or videos about futurism, just stuff that is interesting in any category. And the numbers went way up. So I learned not to box myself in, in terms of the content I'm sharing. People aren't only interested in one type of thing, so why limit myself to that? It's become a lot more fun to work on now, because I can just find and share cool stuff that I like. I definitely wish I'd known that from the start.
What are some of your favorite newsletters, books, and podcasts?
I probably subscribe to more newsletters than anyone in the world, so I'll just share some of my favorites from various categories.
General culture and news
Environment
Tech/Business
Recommendations/Interesting Things
As far as books, I mostly read novels. I recently read Leave the World Behind by Rumaan Alam and it was excellent. Kind of scary given the times we are in but it's still a fun and distracting page turner. Ottessa Moshfegh is one of my favorite writers so I recommend any of her novels. Same with Lauren Groff and Rachel Kushner.
For podcasts, I really enjoy Reply All, You're Wrong About, Slow Burn, The Dream, In The Dark, Welcome to LA, and How to Save a Planet.
What goals do you have for the future?
We're working on putting together a version of the email that sends information from local air quality sensors that a group we are working with in the Bronx has set up. We'll be doing this with more and more groups that we do air quality monitoring projects with too, so the data will be hyperlocal, providing a clearer picture of the air quality in those locations. We're also thinking about including other types of environmental data like water quality for example.
The goal is to build out a resource for anyone to find out what the environment they live, work, and play in is like, with the hope of spurring action and engagement to protect and sustain that environment.
Where can readers go to learn more about you and your newsletter?
You can sign up for The Daily Breather here. Also be sure to check out Temboo's Blog and follow us on Twitter, Instagram, LinkedIn, Facebook, Medium, and YouTube.
Stay up to date with the latest from Rad Letters 👇